In Cameron Highlands, Malaysia you have a wide choice of types of accommodation. Typically you can choose to stay in a hotel in one of the towns like Tanah Rata or Brinchang or you can rent one of the many apartments and bungalows to stay in.
A Short Brief History  About The Humble Beginnings Of Cameron Highlands
First "discovered" by British surveyor William Cameron in 1885, the hill resort of Cameron Highlands was actually only developed 40 years later by the then Bristish Adminstrator Sir George Maxwell. It was then meant as a hill station for the local British residents to escape from the daily tropical heat of the lowlands.
Today, Cameron Highlands is one of the two leading highland resort destinations in Malaysia, the other being the Casino and Theme Park Resort of Genting Highlands. With a local population close to 50,000 people, the main townships of Cameron Highlands are Tanah Rata and Brinchang where most of the hotels, bungalow resorts and apartments are located. Tanah Rata is also the main administrative town where the government offices including also the post office, main hospital and banks are located. The smaller villages of Ringlet, Tringkap, Bertam Valley, Kuala Terla and Kampung Raja make up the rest of Cameron Highlands. These smaller towns and villages concentrate heavily on agricultural activities, consequently retaining most, if not some, of their rural and countryside atmosphere. Traces of Cameron's colonial history still remain, but consist mostly of European stone mansions that have been converted into boutique hotels.
Cameron Highlands is located in the State of Pahang near to the borders of the State of Perak. Most visitors can self-drive up to the highlands resort or travellers may also opt to take the bus services from Kuala Lumpur, Penang or Singapore, all of which offer scheduled daily trips.
Getting there and getting around.
Whether coming from the south that is Kuala Lumpur or Singapore or from the north that is from Penang or Ipoh or finally from the east that is from Raub or Kuantan, there are three main ways to reach the Cameron Highlands. The most popular route used to be the exit at Tapah town, then follow a narrow trunk road that cuts through a lush mountain range for about 40km (an hour's duration; drive is slow as road is rather winding) up to Ringlet, the first town of Cameron Highlands. This was the first road up to the highlands resort that was built by the British and is still being used up to this day. As a rough guide, from Singapore, it's a 500km (five to six hours) journey while those starting from Kuala Lumpur only travel 150km (one-and-a-half hours) to reach Tapah.
Simpang Pulai is the second most popular entryway, and this is used most by travellers coming from northern destinations such as Ipoh and Penang. Some travellers from the south also prefer using this route, as it has greater visibility and less winding roads. Using the Simpang Pulai route adds an extra 20 minutes journey time from Tapah for those coming from the south. This road itself travels for about 60km before reaching the village of Kampung Raja, the northernmost town of Cameron Highlands.
Finally, a recent highway has been built that starts from Sungai Koyan village to Ringlet town, about 40 minutes away from either Raub and Kuala Lipis towns (both can be accessed via the Karak Highway with an hour's drive). This is the most secluded route, with few cars travelling on it at a distance of roughly 250km to Kuala Lumpur through Raub
Travellers from the east coast states, such as Kelantan and Terengganu, can also use the highway that starts from Gua Musang; a 90km journey to Kampung Raja, passing Lojing Highlands along the way.
Once in Cameron Highlands, for those travelers who do not have their own means of transport, it is then recommended that you move around either by walking, which is actually quite enjoyable when the weather is good or you can opt to take the local taxis either hiring them for the day or to take you to any particular destination that you request.
When Is It The Best Time To Visit Cameron Highlands? 
So you may be considering making a trip to Cameron Highlands. And the question you may be asking is when is the best time to visit the highlands resort.
Although I may be bias in my considerations when it comes to visiting Cameron Highlands since I consider this place as my favourite place on earth, I think I can be of help to suggest when you shouldn't consider going to Cameron Highlands.
You see the beauty of the highlands in its peaceful and tranquil atmosphere. So I think when you visit there you may want to enjoy that peace and quiet feeling of the mountains.
So ideally you don't want to visit when the highland resort is crowded with other holiday makers making the towns and villages congested not only with people but with heavy traffic too
And when does this happens?
Well below are the times when the crowd can be a bit overwhelming and so not the ideal time to go there:
1. All festive seasons period. And these includes Christmas and New Year, Chinese New Year, Diwali and Hari Raya.
2. During the school holiday periods especially over the weekends during such periods.
Other than the above periods, it should fine especially during normal weekdays.
As far as the weather is concern it is typically cool with a temperature range of from 18 degrees Celsius to 24 Celsius, even though it tends to be raining more often towards the end of the year.
So if you need to find out a bit more of the weather and the business of the highland resort just before your visit do feel free to check with me.
Write to me if you would like to know more about experiencing a FARM STAY in Cameron Highlands!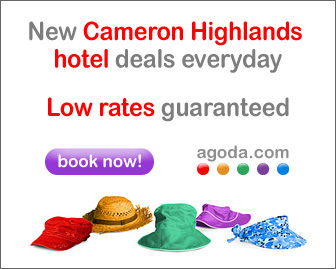 by